A Week's Worth of Travel, Lest We Forget!
We haven't written a blog since Lee wrote about Mackinac Island. It's only been a week or so, but I was already forgetting what we have done! So this is going to be a brief "sum up" of the past week.
We were in St. Ignace for 6 days, which was our jumping off point for a few excursions. Our last being, a drive north to Sault Sainte Marie. We had never been and were looking forward to seeing the locks. We arrived right before a huge ship was scheduled to move through the lock. So we waited… We learned that after the ship had moved into the lock, it would be lowered 21 feet! Moving from Lake Superior, to St. Mary's River , to Lake Michigan and Lake Huron. It's really an incredible feat of engineering by the Army Corps of Engineers! It was really fascinating to see. So glad we did it!
Oh yeah , and there was fudge! They sure like their fudge in the U.P. !
On our drive back from Sault Sainte Marie, we saw Castle Rock and decided to stop and climb. It is a towering rock formation and you may access it by climbing many stairs!
Once you reach the top, you walk across a ramp to the rock. The views are beautiful up there, but it was very windy and pretty scary!! So we took a few pics and went back down the stairs to safety!
After spending 19 days in the U.P. , it was time to head to the "L.P." . We had to cross the Mackinac Bridge to get to the "L.P." It was a bit nerve wracking towing Goldie across the bridge. We had heard that strong winds are common and sometimes they restrict crossings to high profile vehicles. Luckily we didn't have the winds, but we did have fog. It was a little eerie!
Our first 2 nights in the L.P. were spent at Harvest Hosts. We have had really good experiences staying at Harvest Hosts and it's a really great way to go places that we probably wouldn't go if we were on a "vacation" and not living our new gypsy lifestyle! Our first stop was Fiske Orchards. They serve food, have a market with many Fiske made products, have an orchard, and of course GOATS!
Our second stop was Iron Fish Distillery. They bought an old family farm and grow all the things needed to make their own spirits. Vodka, bourbon, rum, and gin. We shared a flight of spirits and each had a drink and a wood fired pizza. Lee had a Bloody Mary and I had a bourbon drink similar to an Old Fashioned. All yummy. We were parked out back next to a field. We saw some wild turkeys and some deer.
Our next stop was Timber Ridge RV park, just outside of Traverse City, Mi. On our way, we finally found a car wash that could accommodate our Goldie! Yippee! She really needed a wash!
We drove in to Traverse City on Thursday and walked around a bit and did some window shopping. I only took one picture. I love a funny t-shirt!
Friday and Saturday were spent enjoying some of what Sleeping Bear Dunes National Lakeshore has to offer. We walked from the campground to Lake Michigan. Waded in the water and found some treasures.
Freaky play of light, water, magnification, soft waves…OR I need some foot surgery!!
We took a scenic drive with some stops along the way to enjoy the views.
And finally, we hiked some dunes! This wasn't even the BIG dune! Whoa! When you look up and think, if I make it up there, I'll be able to see the lake. Then you make it up there and there is another dune to climb. And you think, if I make it up there, I'll be able to see the lake. Then you make it up there and there is another dune to climb…..And so on and so on…It was really incredible and we didn't even go all the way to the lake!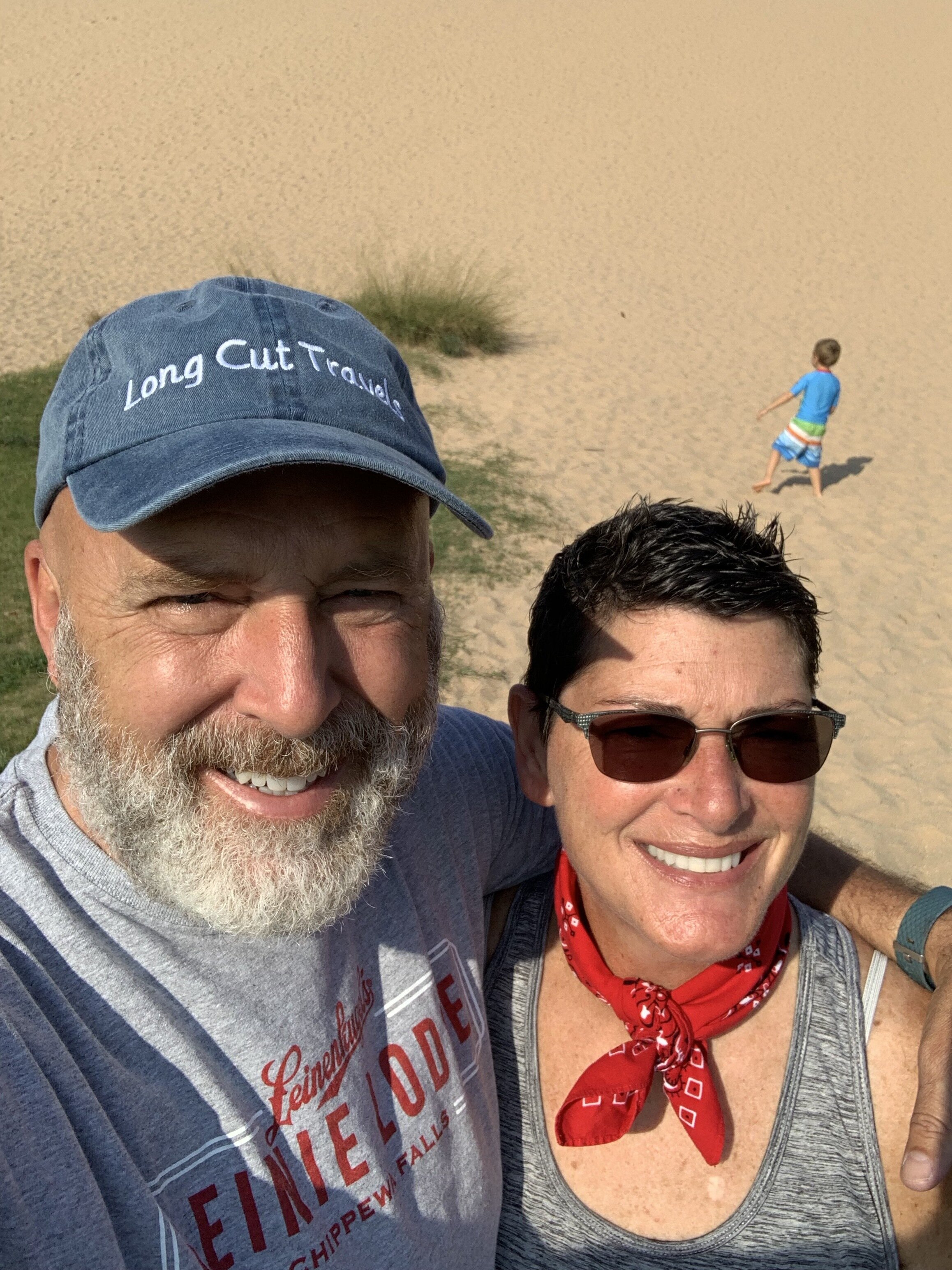 We survived, although I was VERY sweaty and purple-faced. Right after our dune hike, we went for a bike ride. There is a great paved path off the parking lot. We rode for about 10 miles! Great day! I think I'll be very sore!
Our next stop is another Harvest Host on our way to South Bend.