Ashland Wisconsin - City of Murals
Yes, we know… We take a lot of pictures of sunsets.
We arrived at Kehler Park Campground - also know as sunset park - in Ashland on Wednesday and the plan is to stay an entire week. Kehler is a city park right in Ashland, just a short walk from downtown. We thought that it might be tough to find another location this beautiful over the busy Labor Day weekend so we planned to stay a while.
Ashland is a port town on Lake Superior with a population of around 8000. At one time it was the 2nd busiest port on the great lakes - only Chicago was busier. Yea, I didn't know that either! That was a long time ago, however, when iron ore, timber, and fish were exports of the area. The 1800 foot Ore Dock is no longer used, but it is being preserved as a historic landmark. It too is located just at the east end of Kehler Park.
We probably have the best campsite in the park. We are steps away from the lake, the Lakefront Trial bike path, and a small beach. The bike path is currently about 10 miles long and very well maintained. They are doing some construction work around the marina so the bike path doesn't complete the entire loop, but it's still a very nice out and back ride.
On Saturday we launched our kayaks from the beach and paddled out and around the old ore dock. The day was perfect and the lake was very calm. Just a day earlier we experienced very strong winds and we couldn't imagine taking a kayak out on those waves! We thought maybe we'd have to give up on the idea of kayaking on all 5 of the great lakes, but we were able to venture out after all. That's two great lakes kayaked if you are keeping score - we're coming for you Huron!
What's with all of the murals around Ashland? The murals present a history of Ashland as you walk through the 8 block Main Street business district. The 2 artists - Kelly Meredith and Susan Prentice Martinsen - started the first mural over 20 years ago and today there are 16 in all.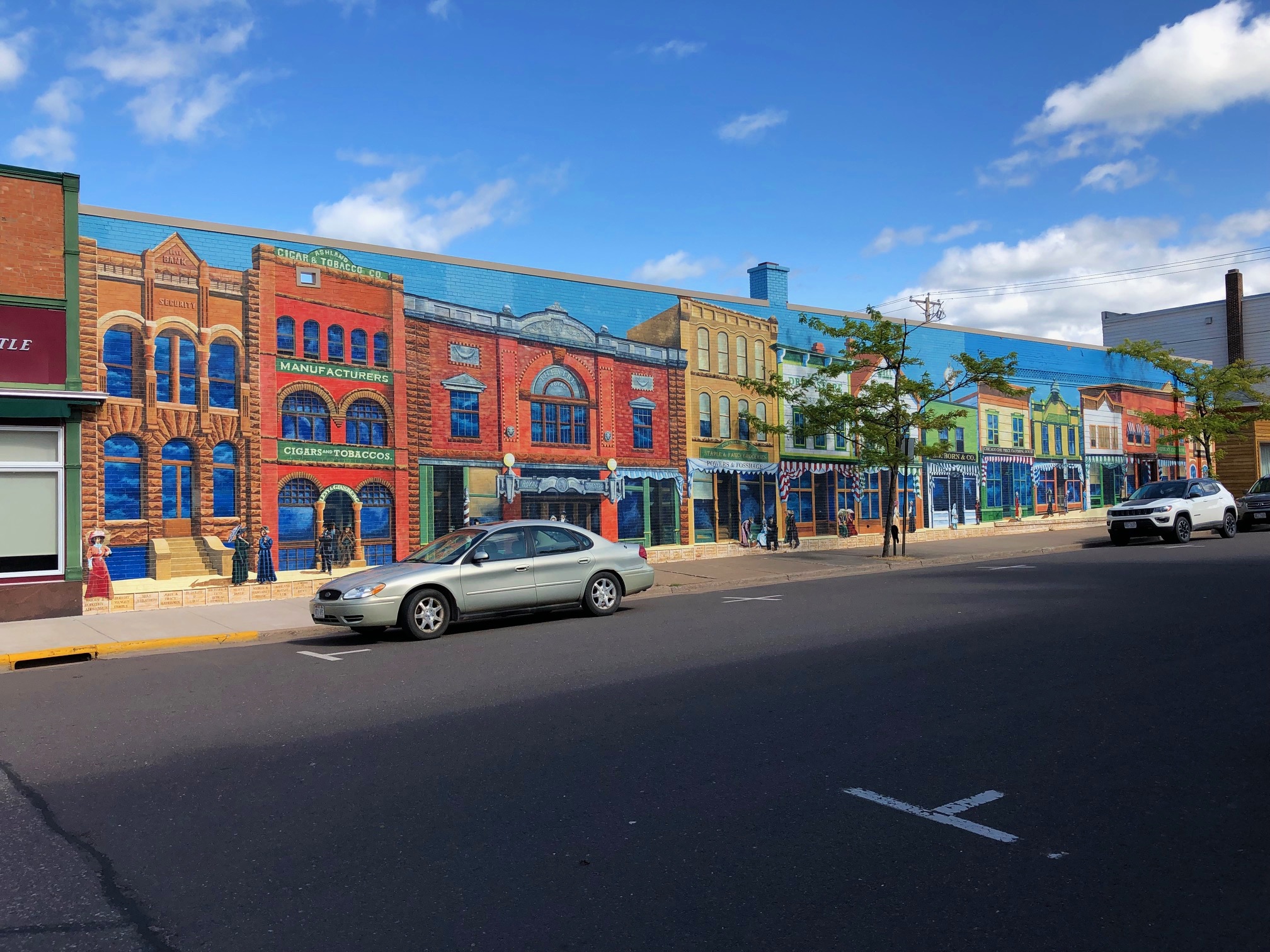 That's a pretty good sampling of the murals in Ashland. Maybe even more impressive are the garbage cans of Ashland. There is one on nearly every corner and each is a unique piece of art.
Next up is a visit to the Apostle Islands and Wisconsin's furthest north point.