The Adventures of Tom Sawyer and Huckleberry Finn ( Lee and Suze )
I had a vision of the day we would spend in Hannibal, MO. It included some overalls wearin'/ barefoot walkin'/feet danglin' off a bridge/and a bit of fishin' in the Mighty Mississippi, with a piece of hay stuck between our teeth. Well, none of THAT happened, but we had a (almost ) perfect day!
It was about a 45 minute drive from our campground at Indian Creek on Mark Twain Lake. It was a beautiful day. Sunny, breezy and not too hot. ( a relief after 108 degrees at the St. Louis BOB ! ) We found a great parking spot right off Main Street. Most of the shops and restaurants lined a 3-4 block area on Main Street.
We walked up Main Street, stopping in every cute little shop along the way.
Tom Sawyer and Becky Thatcher even came into the Mississippi Marketplace while we were there! What are the odds?
We then moseyed over to the historical little square to see Tom's house and fence, etc…
By this time we were hungry for some lunch, so we headed to The Mark Twain Brewing Co. for some lunch.
This is where the ( almost ) comes in! No sooner had we sat down and ordered our beers, before we even took our first sip, I knocked my whole beer onto Lee's shirt and shorts! He was drenched! Arghhh!! What a clumsy lady!! So, he had to buy a t-shirt to change into!
After lunch we walked up 244 stairs to the Mark Twain Memorial Light House. Whew! That was a lot of steps!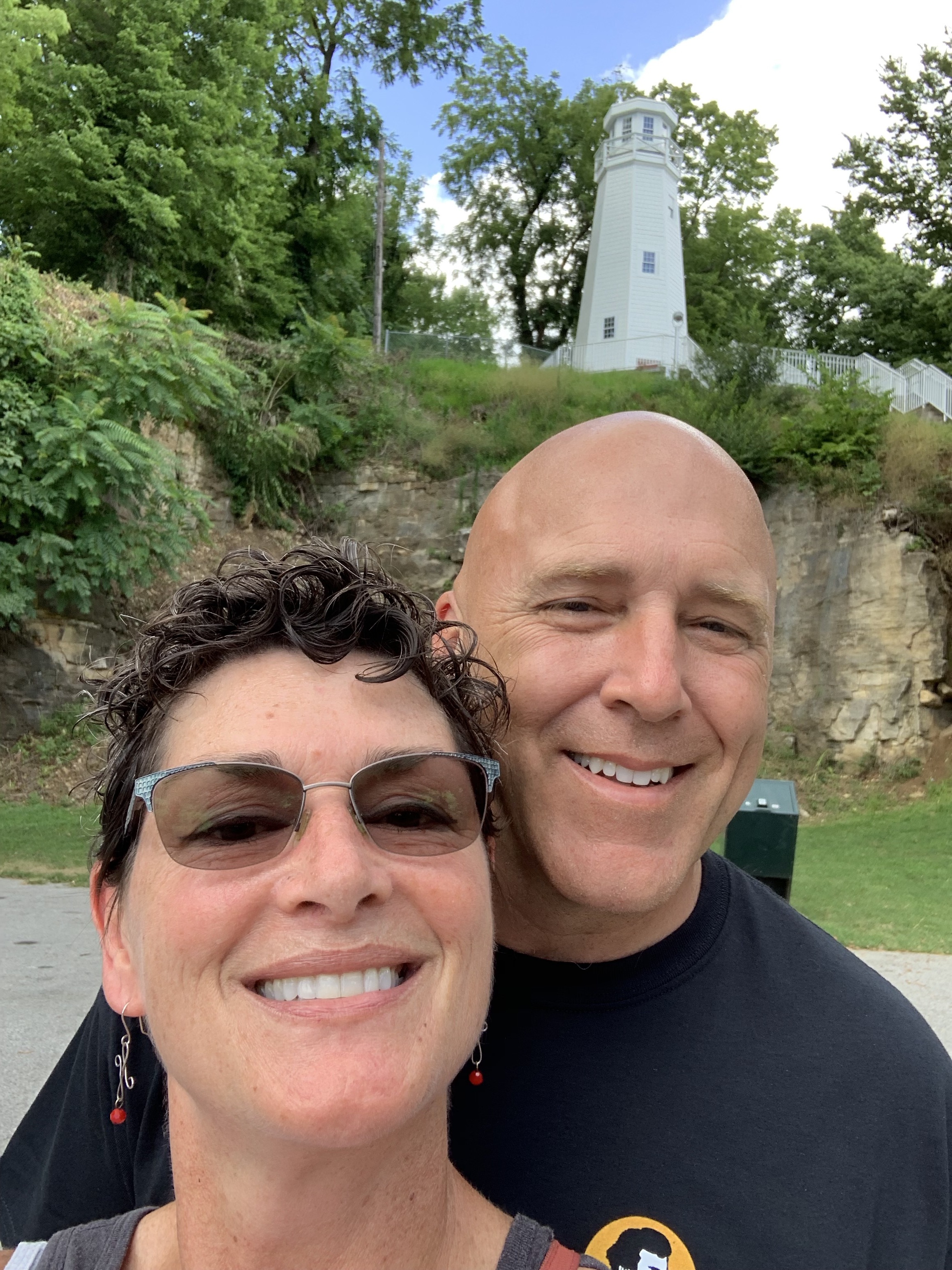 Then we walked down 244 stairs to get back to Main Street. ( my calves are still sore! )
We walked around the other side of Main Street, stopping into a few more shops. ( still sweating from all the stairs! )
We got a little bit of a history lesson during our afternoon in Hannibal. We also bought the books, The Adventures of Tom Sawyer and The Adventures of Huckleberry Finn and have vowed to read them! (again )
Thank you Hannibal for a ( almost ) perfect day!